UMZ tractor: characteristics (photos)
Whatever type of economic activity you are engaged in, you are probably familiar with the equipment of the YuZHMASH plant. Although the YuMZ tractor was a "by-product" of the defense giant, its quality, reliability and durability have become almost a legend.
At the dawn of post-war engineering, a clear separation of the defense and civilian industries was adopted. Defense enterprises were obliged to produce peaceful industrial equipment for general use, but they were forbidden to use the components of "civilian" suppliers. Thus, all the parts and components for the YuMZ tractors were manufactured by military-industrial enterprises and were assembled by defense specialists, and they simply did not know how to do it poorly. The tradition of high production standards at YUZHMASH has been preserved until now.
Application area
YuMZ 6 is a universal tractor, it and its modifications since the seventies of the last century have been successfully working in agriculture during plowing, planting, processing plants, applying fertilizers and herbicides.This is one of the best tractors working with beet harvesters, corn and potato harvesters of trailer execution. Thanks to a reliable low-speed motor it is able to work for many hours in a row with a high load, without overheating.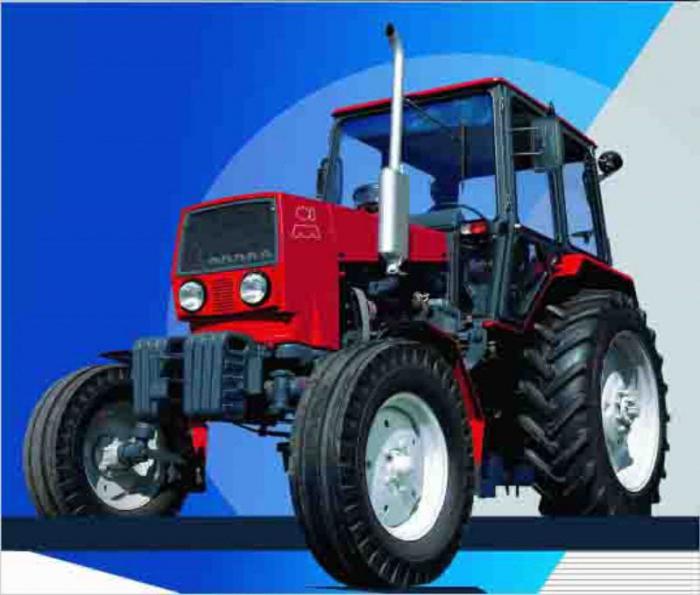 Also, the YuMZ tractor successfully works in forestry as a transport vehicle with a wheeled trailer or when moving dumped wood by dragging. Bulldozer-excavator versions for road services, construction companies and public utilities are also being produced. Equally successfully it can be used both for work on a building site, when laying utilities, and when cleaning snow in the winter period. A feature of YuMZ 6 has always been an easy engine start in the cold. The UMZ tractor, the photo of which you see in the article, successfully cleans the roads and yard areas and belongs to municipal services.
Characteristics and modifications
Today you can find the following modifications of the UMZ tractor:
YuMZ 6 L - the first model of the famous line, distinguished by the rounded shape of the radiator grille, repeated many elements of the basic MTZ 5 model (the development of which it was in fact), was equipped with D 242-71 engines (45.6 hp), which later D-65 engines (60 hp) were installed.
YuMZ 6 al - the steering column was modified (it was able to be adjusted), the dashboard became more convenient, the hood acquired the usual rectangular shape, the brake system was also improved.
YuMZ 6 k is a modification for a bulldozer and a manipulator-excavator shed, the engine was started by an electric starter, later a version for attached agricultural equipment was produced (plow, etc.).
YuMZ 6 ak - version received a new cabin with improved visibility and a hydraulic system with positional and power regulation.
Currently, the model of the tractor UMZ 6 akm 40.2 is being produced.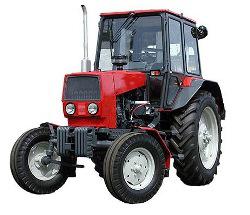 Modern tractor UMZ characteristics has the following:
ground clearance - 450 mm (agrotechnical under the front axle - 650 mm);
minimum turning radius - 4,2 m;
adjustable track (front wheels - 1360-1860 mm, rear wheels - 1400-1800 mm), rear wheel track is adjusted smoothly (steplessly);
nominal tractive effort - 1400 kg;
travel speed - (1.46 / 32 km / h - minimum working / transport);
wheelbase - 2460 mm;
cab height - 2750 mm;
curb weight - 3800 kg + 100 kg ballast (on the front axle);
engine - D 242-435 (power - 60 hp, electric start, speed - 1800 rev / min);
specific fuel consumption - 235 g / kWh (172.8 g / hp / h);
Transmission - 9-speed manual;
power take-off shaft (PTO) - semi-independent (500/1000 rpm);
steering - power steering with independent power;
loading capacity on a suspended axis - 2500 kg.
The UMZ tractor has a relatively high center of gravity, therefore the maximum gradient of a gradient is 10 degrees.
Spare parts and maintainability
Spare parts and additional mechanisms for YuMZ tractors are manufactured by many machine-building enterprises on the territory of the former USSR, and therefore are available in almost any region. A large number of YuMZ tractors, successfully continuing to work for 20-30 years, testify to reliability, ease of maintenance and repair. As, for example, a UMZ tractor, the photo of which you see below. 1984 release, and still in service!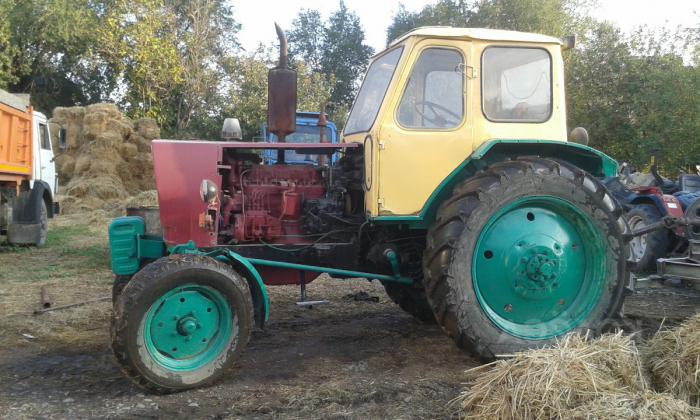 The simplicity, availability of spare parts, technical descriptions and reference books (and, more recently, video repair manuals) make the tractor of this series also a highly liquid acquisition. So, you can buy or sell a UMZ tractor without any problems for almost any year of manufacture.
Comparison with analogues
The tractor UMZ has several analogues of other manufacturing plants. The closest are, in fact, the "cousin" brothers - MTZ 50 and MTZ 80, all of which were an evolutionary continuation of MTZ 5, produced in the 50s of the last century.
Compared with analogues YuZHMAShevets heavier, stronger frame and better in terms of patency.
Units and attachments
There are enough modifications and additional attachments available on the market that allow the use of a YuMZ tractor for the development of soils for road and civil construction, opening asphalt concrete pavement, loading operations, etc. But the most common area of ​​application was and remains agriculture. Both mounted and towed equipment of this particular category is most common and in demand.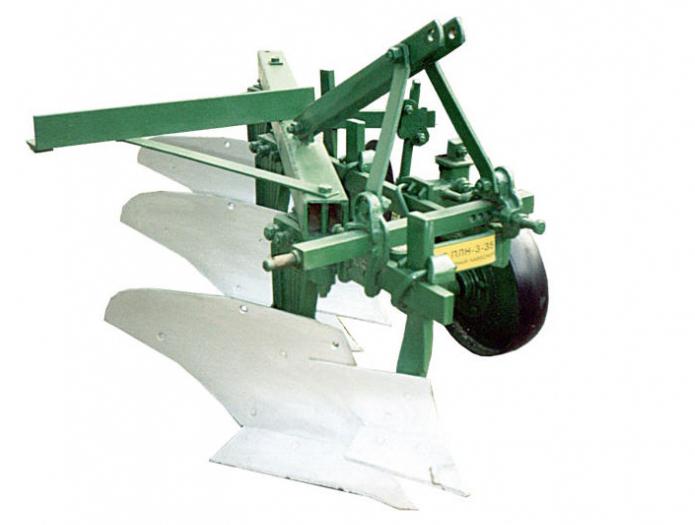 In addition to plows, harrows and cultivators, there is a huge variety of mowing machines, reapers, cutting trays for corn, soil rippers, sprayers and devices for spreading fertilizer in granules. And also seeders, units for planting and digging up potatoes. This makes one tractor a versatile solution for medium-sized farming.
Conclusions and recommendations
YuMZ 6 is an excellent tractor, a hard worker-assistant for both a private entrepreneur (affordable and easy to maintain), and for a large municipal or commercial company. If you are determined to purchase a universal workhorse, give preference to domestically produced equipment, have the skills and experience of repair and maintenance, the YuZHMAShevsky tractor will be the best solution in terms of price and quality.
Related news
UMZ tractor: characteristics (photos) image, picture, imagery