Panel radiators: characteristics, installation, advantages and disadvantages
It is difficult to overestimate the role of radiators in any heating system. It does not matter, the apartment is in an apartment building or a private building, but everywhere there is a need to transfer heat to the room from the coolant. This function and perform heating radiators.
They are responsible for creating and maintaining comfort and coziness in any room, residential or industrial, at home or in the country. Heat is needed everywhere.
Panel radiators
The modern market of heating devices is huge and offers a lot, so it is sometimes difficult to determine the choice not only of the heating system itself, but also with which panel radiators to install. The range is very large, both among domestic producers and among foreign firms and companies offering their products.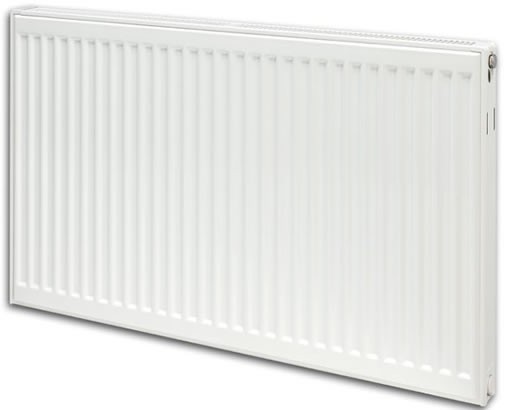 Meanwhile, the vast majority of consumers focus their attention on panel radiators. They are versatile and practical, affordable and look great in any interior.
The main properties of heating panels
All radiators of this type are united by the presence on their front side of a special panel of high-quality and high-strength steel. Steel is known to be a fairly practical and ductile material.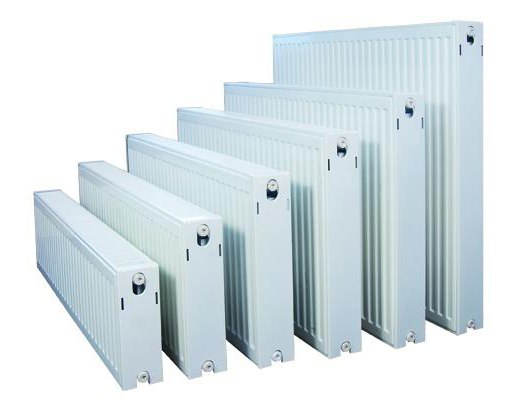 Panel-type radiators are distinguished by the fact that they operate at low operating pressure, up to 10 atmospheres, and at a temperature of the coolant in them up to 110 degrees. And at the same time it is allowed to use such batteries in the central heating systems of apartments and offices.
The design of panel radiators
Currently manufactured products are made of special sheet steel, which is manufactured using a special innovative technology. To improve the circulation of coolant in the radiator battery, special grooves and channels are provided in the design of the radiator. U-shaped plates, in the amount of from one to three, provide air movement. As a result, such a design, in combination with low weight and compact form, allows installing panel radiators in almost any room.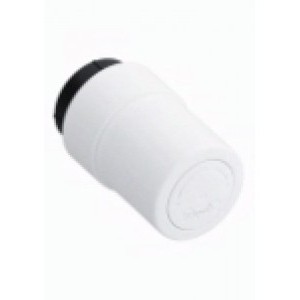 Thanks to modern technology, it is possible to produce heating batteries of different styles and designs, even in the high-tech direction. Usually the height of the batteries, which are decorated with panels, is from 30 to 90 centimeters. Width, as a rule, makes 30-40 centimeters.
Varieties of panel radiators
There are several groups into which steel panel radiators are divided. Prices depend mainly on the size, connection method and style of the battery and range from 1500-2000 rubles. up to 9000-10000 rubles.
There are two types of batteries. They are distinguished by the type of connection of the return and flow to the pipelines:
Panel heating radiators connected below. They are also called universal, since they are completed with various additional devices, such as thermal heads, thermostatic valves and so on. Of course, their price is higher.
Side-mounted radiators.
By power radiators are divided into three types:
11 type - radiators with one U-shaped plate.
Type 22 - radiators with two U-shaped plates.
Type 33 - radiators with three U-shaped plates.
Selection Council
If the type of radiator is known, then you can easily correctly select the required number of batteries for heating any room.Choosing panel heating radiators, which ones are better to install, you can decide after their scrupulous comparison by different parameters.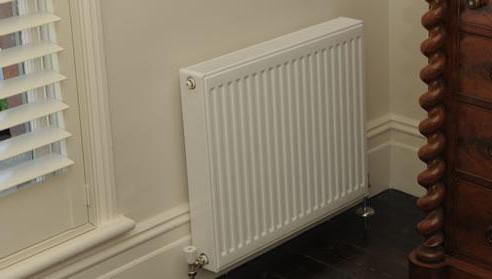 To find out the area of ​​maximum heating of the radiator, you need to count the number of U-shaped plates on it. Accordingly, 11 types of radiators are the weakest, and the 33rd has the greatest power.
Performance and convection panel batteries
Radiators that can be found on the domestic market are convectors. They have a convection principle of work. In addition to heating, it is based on the air circulation process. It was due to the conversion that the efficiency of panel radiators was increased to 75%. In addition, inside such batteries there are special openings through which cold air is sucked in, being transmitted to the radiator, which subsequently goes out through its upper part, which is already heated to the required temperature.
Basic equipment of panel type radiators
To regulate the temperature of the heating panel radiator there is a special device.
If the installation of heating radiators is carried out independently, then it is important to bear in mind that during the installation process some more devices will be needed.
Most often in the configuration to the radiators are:
Mayevsky's crane;
adapters;
plug;
wall mount with dowels.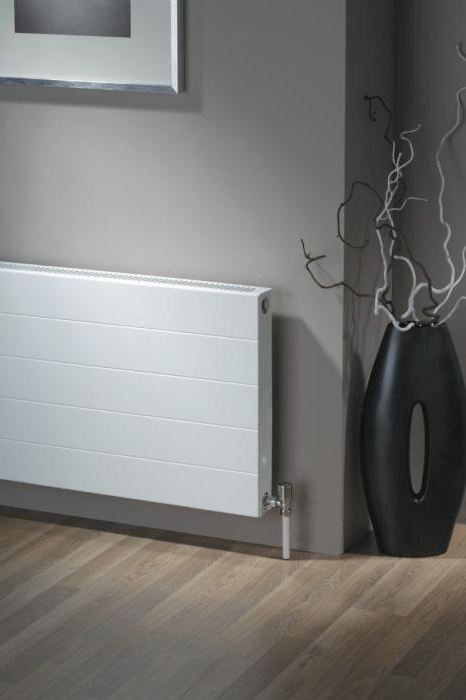 If the acquired panel heating radiators are of high quality, then the supplied fixtures and devices are enough to carry out the installation of heating radiators without problems. Such configurations significantly save time and money when installing radiators.
The main advantages of panel radiators
There are many advantages of using panel radiators. Here are the main ones:
Presentable appearance that fits perfectly into any interior of a modern home. When choosing such radiators, it is important to take into account the smallest features of the interior, its design and design. Then the radiator will fit harmoniously into the room and even be able to decorate it significantly. And thanks to the increased conversion, even a fairly large room can quickly be heated, given the high efficiency of modern radiators.
Simple and neat, and with it the original and stylish design of radiators. Manufacturers provide a variety of style options, due to the fact that they produce on modern high-precision equipment steel panel radiators of heating, the prices of which are lower.You can find radiators, made in the style of minimalism, and in the classical traditions.
Radiators are economical. Since there is a very small amount of coolant in the radiator itself for a specific period of time, the cost of heating it in the heating boiler is significantly reduced.
Huge selection of dimensions.
The use of functional adjustment of air heating in the room, both manually and automatically, using a variety of additional devices
Radiators are multifunctional. This air heater and convector.
Affordable cost. Since the radiators are made of steel, the cost of which is much lower than that of copper or aluminum, the prices for panel heating radiators are also quite low. Much lower than for example on vacuum.
Disadvantages of panel radiators
There are panel radiators and some not very significant drawbacks. These include:
Poor tolerance to water hammer. Because of this "weakness" they are not recommended to be installed in houses, with a centralized heating system.
If the pressure in the heating system is too high,then the use of panel radiators should also be abandoned.
High sensitivity to water composition. And specifically to its acidity. When using these radiators, it is necessary to constantly monitor the stable pH level of the coolant. Best of all, if it is in the range of 8.3 to 9.5.
Do not leave such batteries blank coolant. If the metal inside the radiator starts to contact with air, then corrosion will inevitably occur.
Most radiators have a classic rectangular shape. But if you wish, you can find the most sophisticated radiators for every taste.
Despite the shortcomings, made of steel panel heating radiators are now very popular, thanks to the refined design, high practicality and a very affordable price. In addition, they fit perfectly in almost any heating system and allow you to heat any home with high efficiency. As a result, the consumer gets a cozy and comfortable atmosphere for work or residence.
However, in order for panel radiators to serve for a long time and not break,At the radiator selection stage, it is necessary to take into account some important parameters, such as the required air temperature in the room, pressure in the heating system and the area of ​​the heated rooms.
What to look for when choosing?
There are several nuances that are worth paying special attention to when choosing a panel radiator. Characteristics and design features - these parameters must be compared.
Panel radiators may have a different number of convectors and front panels, which is indicated in their label. The marking itself includes a pair of numbers - the first one indicates the number of installed panels, and the second one - the elements of convectors. For example, if type 31 is indicated, this means that the three panels and to each of them are welded along the convector.
Most often, in panel-type radiators, connections are used for connections, with an external thread of 3/4 inch or with an inner diameter of 1/2 inch. If the buyer wishes, then any radiator can be equipped with adapters for any of these options.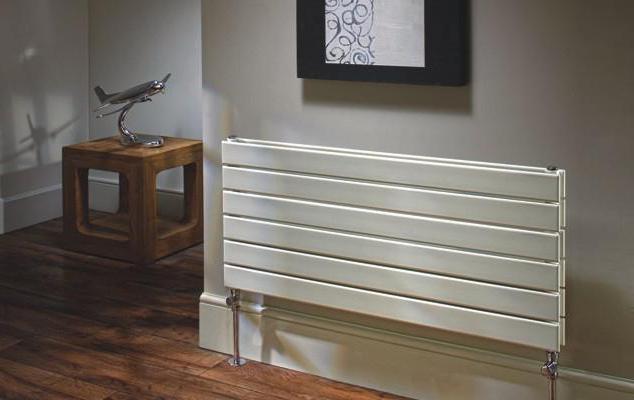 However, not every room can horizontally install metal panel radiators.For example, Arbonia produces models of the Heizwand line, which provide for vertical and even angular positioning. Such radiators will perfectly fit even into the most intricate interior.
For rooms that are located on the upper floors of a private house, you can pick up radiators with a sloping top surface. The bevel angle in this case is selected in accordance with the slope of the roof of the house.
In order for panel heating radiators to look better, it is not at all necessary to choose classic geometric shapes and white colors. For example, Korado manufactures more than twenty variants of various colors of its radiators of the Klasik series.
After comparing the characteristics and design features of various manufacturers, manufacturers will independently be able to choose the heating radiator that suits them. Of course, much depends on the budget and on the conditions of the future operation of the device, but it is likely that the choice will fall on steel panel radiators of Russian origin, which today are of excellent quality.
Related news
Panel radiators: characteristics, installation, advantages and disadvantages image, picture, imagery