Modern drying cabinets: the principle of operation and their scope
Drying of clothes and shoes, sterilization and disinfection of instruments, food processing and preparation of materials - the need to perform such work is faced daily by medical, chemical and other industries, workers in kindergartens, sports clubs and hotel complexes. With all these actions a modern drying cabinet does a great job. The possibility of choosing the temperature regime, automatic shutdown in case of overheating along with powerful ventilation make the handling of things and materials gentle and efficient.
What is a drying cabinet
A metal chamber made of stainless steel and equipped with special shelves for clothes, shoes or tools - this is what a standard drying cabinet looks like. The principle of its operation is that moisture from the materials placed inside turns into steam and is immediately removed outside due to the powerful air flow.In the double bottom of the chamber, the ceiling or on the back wall are a fan and a heating element (heating elements). With the help of a fan, the air flow enters inside, heats up to a certain temperature and is discharged from the room through the ventilation duct.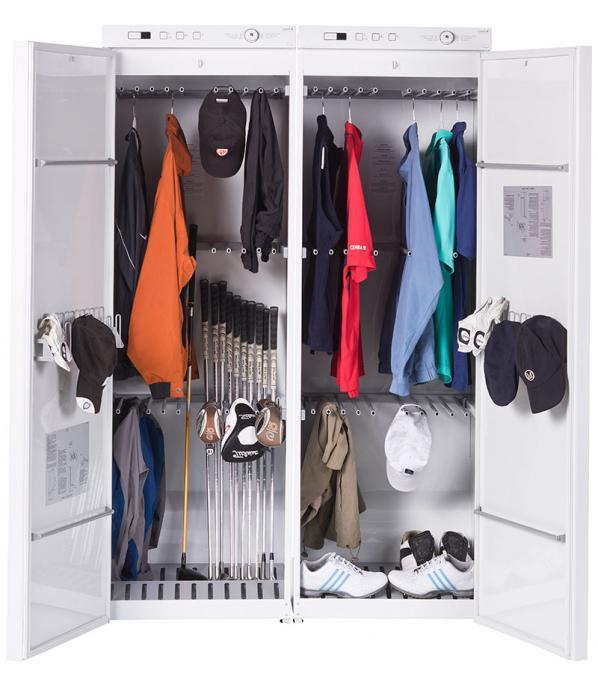 Each type of drying has its own temperature regime: for home wear - no more than 60, for disinfection from harmful insects - no less than 80, for laboratory specimens - 50-500 degrees.
Types of cabinets and their scope
There are drying chambers for clothing and laboratory electric furnaces.
In order for the temperature to be evenly distributed throughout the entire volume of the work area, cabinets with natural and forced ventilation are produced. In the first case, the air is drawn directly into the ventilation duct, in the second it moves inside the chamber.
All drying cabinets are widely used in everyday life and in industry.
Furniture for drying clothes is indispensable in kindergartens, sports clubs, hotels, in manufacturing plants - where you need to quickly and efficiently handle large volumes of wet clothes.Modern models are equipped with a special barbell to hang clothes. They allow you to place in the closet wet things or previously wrung out, dry shoes and sports equipment.
Laboratory drying cabinets are electric ovens for disinfection, sterilization, heating of medical instruments, glass and metal utensils, materials.
They have found application in the pharmaceutical industry and medicine, mechanical engineering, aviation, research institutes and industrial laboratories.
Selection features
Before you choose one or another model of the unit, you should decide on the required parameters and functions. Choosing a drying cabinet for clothes, it is important to find out for how much things the working chamber is designed for, whether there is a timer, to find out the supported temperature mode, the heating power. Attention should be paid to the type of ventilation: for clothing, preference should be given to natural exhaust. Modern models allow not to pre-press things. In addition, they are also equipped with an automatic shutdown function when overheated.
Laboratory Drying Cabinets
Electric laboratory furnaces are produced in Russia since the middle of the last century. During this time, mass production of drying cabinets, which have found application in many industries, has been established. The most popular were models of the ShS and SNOL series.
Modern drying cabinet SL is used for processing medical instruments, laboratory glassware and samples of materials for research. The most common model in this series is the ShS-80-01, presented in several versions. Depending on the functionality and price, natural or forced ventilation is provided in the cabinets of this model range. In the first embodiment, the temperature range is 50-200 degrees, in the second - from 50 to 350.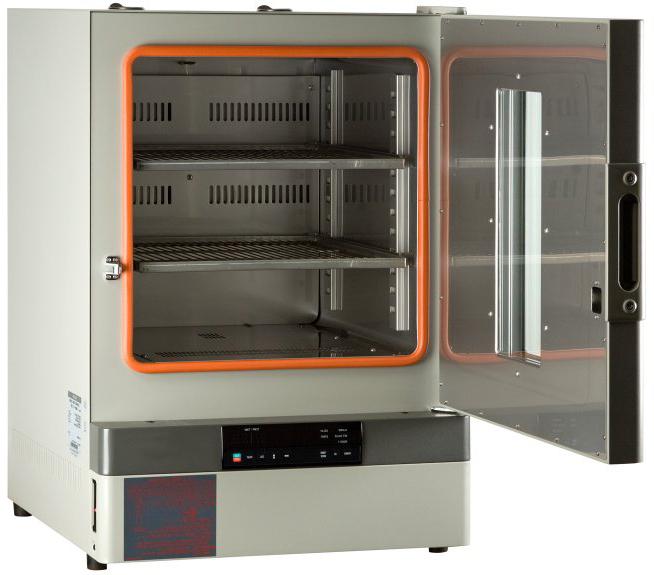 For visual observation of the workflow, a digital indication of temperatures is provided. This cabinet is widely used in laboratory research in the petrochemical industry. The volume of the chamber is 80 liters.
The drying cabinet SNOL is no less popular in different industrial areas. The series is represented by several models, which allows you to select the desired temperature mode (from 50 to 500 degrees) and the volume of the working chamber (42-67 liters).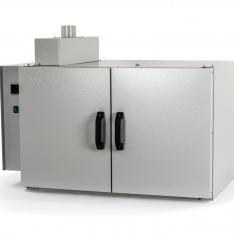 Drying cabinets SNOL are distinguished by high accuracy of maintained temperatures. This series provides the presence of an automatic overheating shutdown sensor.
Clothes Drying Cabinets
Many well-known manufacturers of household appliances, such as Hotstorm, Electrolux, Asko, along with washing machines produce modern drying units. They are not inferior to them and domestic manufacturers, models of which are in high demand when equipping kindergartens, gyms, hotels.
When equipping preschool institutions, a drying cabinet for clothes "RUBIN" of RShS-5D-135 series is often used. The model consists of five sections, the temperature regime in each of which ranges from 0 to 40 degrees. The air is heated by a convector, and an auto shut-off function is provided. A shoe shelf and coat hooks are available. Thanks to such a closet, kids' clothes in kindergarten will always be dry and warm.
For drying things at home is suitable model ShSO-2000. This is a two-piece metal cabinet with removable shelves. The model has a hole for exhaust ventilation, so that the air is immediately removed to the outside and did not linger inside the room. There are three modes: airing, drying at 40 and at 60 degrees.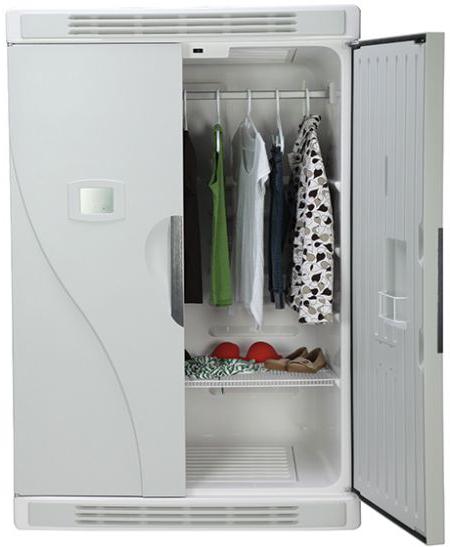 When purchasing any drying cabinet you should not forget about the relevant quality certificates and documents for warranty service.
Related news
Modern drying cabinets: the principle of operation and their scope image, picture, imagery