How to cook muffins in the microwave?
Those who want to eat something delicious and at the same time do not stand for hours at the stove, you should try to bake muffins in the microwave. Their taste is in no way inferior to ordinary cupcakes made according to the classical technology. And they prepare several times faster. In today's article you will find some interesting recipes for this dessert.
Option with jam
The dough, from which these delicious miniature cupcakes are baked, includes only simple and easily accessible products. Most of the necessary ingredients are always present in almost every kitchen. Therefore, such muffins, cooked in the microwave, will be a real boon for those who often have unexpected guests on the threshold. To bake a similar dessert, you need:
4 tablespoons of any jam and wheat flour.
Raw chicken egg.
Tablespoon vegetable oil.
A bag of vanilla sugar.
Half a teaspoon of baking powder.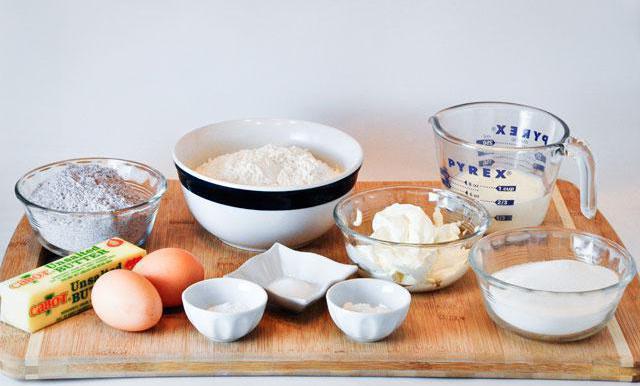 It should be noted that from the specified number of products you get five miniature cupcakes. Therefore, if you expect to treat a greater number of consumers, the proportions of the components will have to be increased.
Process description
In one bowl, combine the egg and vanilla sugar. Everything is well whipped until the appearance of white foam. In the resulting mass gradually add the remaining products and mix, trying to achieve maximum homogeneity.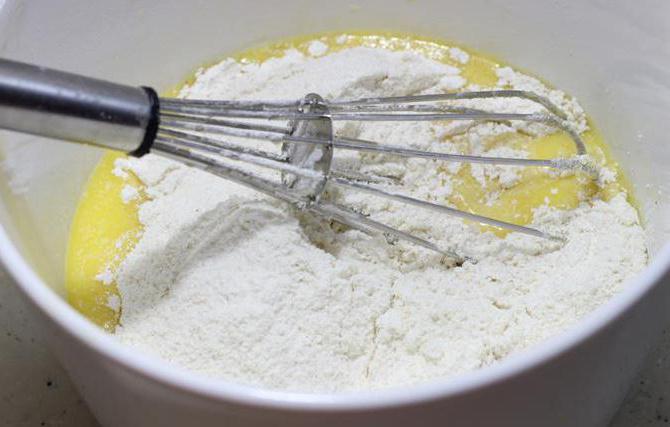 The resulting dough is laid out in molds, which will bake muffins in the microwave. Prepare them for three minutes at a power of 800 watts. After that, the dessert is cooled a little and served.
Option with semolina
Even the smallest sweet teeth can be fed with this light homemade pastry. Unlike store desserts, there is not a single gram of dyes or flavor enhancers. To cook muffins in the microwave for 5 minutes, check in advance if you have at hand all the necessary ingredients. In this situation, you will need:
Half a cup of semolina and sugar.
100 milliliters of kefir.
Half a cup of flour.
A couple of tablespoons of vegetable oil.
Egg.
Teaspoon baking powder.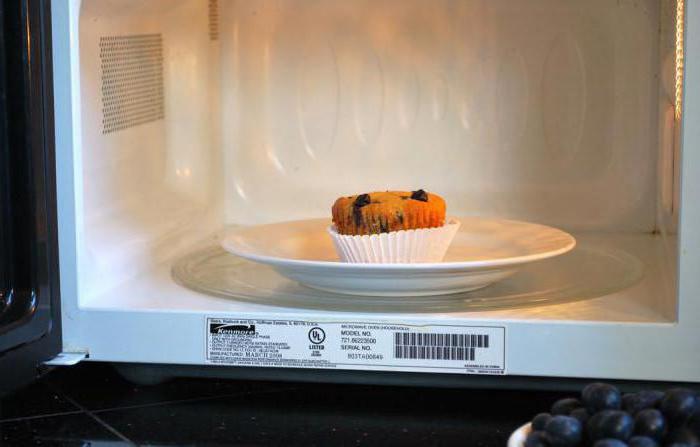 To get a more delicious and healthy dessert, you can add a handful of any berries to the dough. Red currant or black currant is best suited for this purpose.
Sequencing
First, in one suitable container combine semolina and kefir. All this is left for a quarter of an hour. When the croup swells well, you can proceed to the next stage.
In a separate deep vessel combine the raw egg and granulated sugar. All intensively whipped with a fork and connect with vegetable oil and swollen semolina. The future dough is mixed and gradually poured into it in advance sifted flour and baking powder. It should be uniform and not too liquid.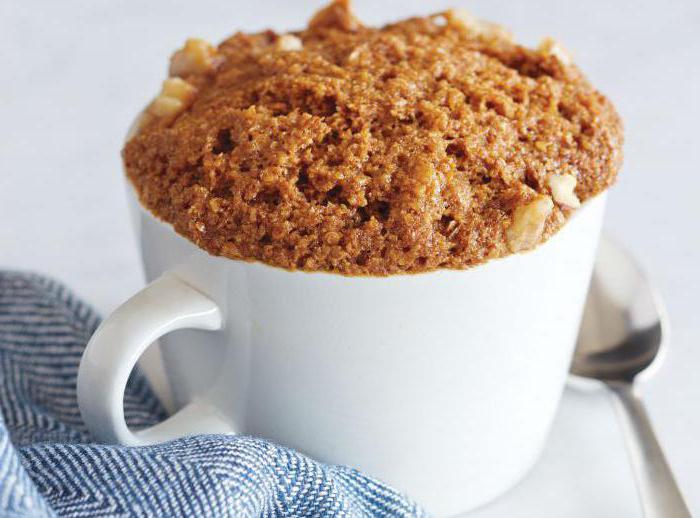 The resulting mass is poured into molds in which miniature cupcakes will be baked, and decorated with berries on top. Cook muffins in the microwave. After about five minutes, they are removed from the oven, checked with a regular toothpick, and cooled slightly. When the dessert is cool enough, it is taken out of the molds and served on the table.
Variant with chocolate
With this technology, you can quickly make soft and soft cupcakes. They prepare so simply that they can easily be served for a family breakfast.To bake light muffins in the microwave for 5 minutes, you should have the following products in your kitchen:
125 grams of butter.
Egg.
120 milliliters of milk.
3 tablespoons of cocoa powder.
A bar of bitter chocolate.
Teaspoon baking powder.
200 grams of flour.
Half a teaspoon of table salt.
75 grams of sugar.
Action algorithm
In one deep container combine the sifted wheat flour, salt, baking powder and granulated sugar. There also add powdered cocoa and mix well.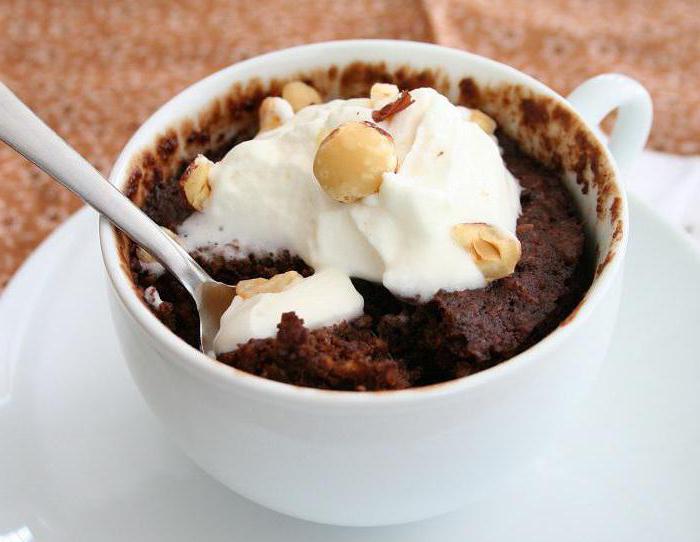 A raw egg is placed in a separate vessel, whipped with a whisk and combined with milk and previously melted butter. In the resulting liquid is gradually injected bulk ingredients, without ceasing to mix. Fifty grams of grated chocolate is added to the almost finished dough and poured into molds. Cook muffins in the microwave at a power of 680 W for three minutes. Then they are removed from the oven, sprinkled with the remains of grated chocolate and cooled. Serve this dessert to coffee or tea.
Banana Option
This technology is so simple that even a child can easily cope with it.It allows you to quickly bake flavored banana muffins in the microwave. The recipe for this dessert implies the presence of a certain set of ingredients. Therefore, before starting the process, make sure that you have everything you need in the kitchen. This time you will need:
On a tablespoon of whole milk and butter.
Ripe large banana.
Three tablespoons of high-grade flour and sugar.
Raw chicken egg.
Half a teaspoon of baking powder.
Additionally, you will need a creme brulee ball. It is used to decorate a baked dessert. In addition, in advance, make sure that at the right time in your arsenal found a ceramic mug. It will bake a miniature cupcake. If you have not found such dishes, you can replace it with a silicone mold or a bowl of heat-resistant glass.
Cooking technology
To make banana muffins in the microwave in a mug, it will take very little time and a little bit of patience. At the initial stage, you should do the test. To make it, melt the butter in a suitable saucepan and add egg and milk to it.All this is slightly whipped with an ordinary corolla.
The resulting liquid is injected with a peeled banana, ground to a puree-like state. All this is well mixed, trying to achieve the most homogeneous consistency. Then, sugar, baking powder and sifted flour are poured into the future. The resulting mass is again mixed, poured into a ceramic mug and sent to the microwave. Bake a miniature cupcake for one minute at medium power. After that, his readiness is checked with an ordinary toothpick and, if necessary, prolong the time spent in the microwave. When served, a banana muffin is decorated with a ball of creme brulee.
Related news
How to cook muffins in the microwave image, picture, imagery