How does a impact screwdriver work?
Impact screwdriver today is a very popular tool not only in construction, but also for working at home. It will be simply indispensable in those situations when it will be necessary to unscrew a firmly "welded" screw. An ordinary screwdriver in this case cannot help you with anything, but a impact one is a completely different matter.
What is this tool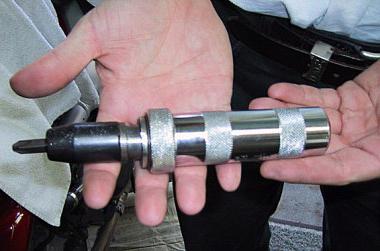 If you look visually, then there are very few similarities with the screwdriver we are used to. This model has a metal body, which makes it more durable and even allows it to withstand strong blows with a hammer.
A set of impact screwdrivers usually comes with two nozzles: flat and cross. The connecting part, where the nozzles are installed, has the shape of a square. In fact, it is very convenient for the reason that you can fasten the end heads into it, which will give you the opportunity to work with bolts, screws and screws without much effort. This is especially good for the category of people who are constantly engaged in repairing cars.
With the help of a impact screwdriver, you can not only unscrew the fasteners, but also install new ones in their place.It is worth noting that this tool twists the details "for centuries". Believe me, you will not be able then to unscrew the bolt with a conventional screwdriver.
Impact screwdriver principle: how it works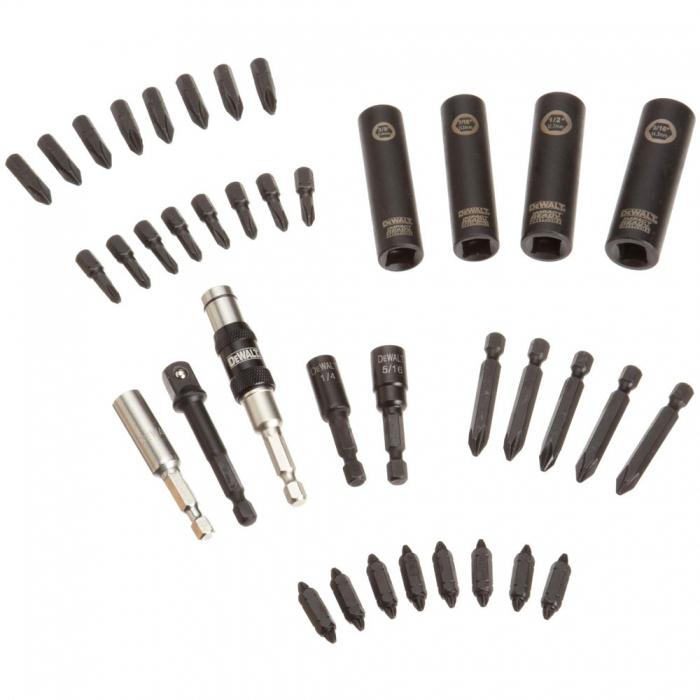 The principle of operation of the tool is not as complicated as it might seem at first glance. When the hammer strikes the butt, the lower part begins to rotate with such force, which is quite enough for the nozzle to cope with the strongest fasteners.
Short instructions:
In order to simplify a task a bit, you can grease the fasteners with a cloth previously moistened with brake fluid before starting work.
Next, take our screwdriver and install it perpendicular to the head of the hardware.
We take a hammer in our hands and hit the end part of the tool with all our might.
After the fastener begins to turn around its axis, make a few more blows with a hammer. This is necessary in order for the screwdriver to switch back to the "tightening" mode. As you can see, it is not so hard to figure out how to use the impact screwdriver.
Making a screwdriver do it yourself
Oddly enough, you can make this very useful tool at home without much effort. The main thing is to figure out how the impact screwdriver works, then the work will go much easier.
Getting Started:
Prepare a rotor taken from an electric motor (small). From it you need to cut everything in such a way that only the shaft and the sleeve remain.
We take the sleeve and select a piece of metal pipe that fits in size to put on it. This will be our grip.
On the reverse side, you will need to insert a nut that is larger in size. This will give strength to the handle and will not break when hit hard with a hammer.
All parts are welded with each other.
Sharpen the end of the shaft to make it square.
Our homemade tool is ready. You need to put in just a little effort, and believe that the impact driver will turn out just as good as any purchased model.
Benefits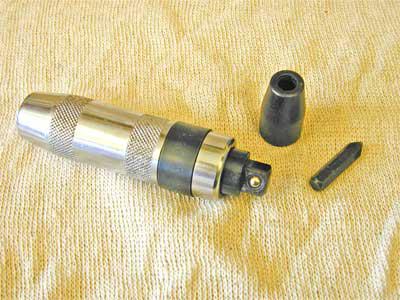 It has a reinforced body made of steel.
Much larger than a regular screwdriver.
Has a torsion switch. This is very convenient if you need to tighten the bolt tightly or unscrew the rusted part.
Using a impact screwdriver is absolutely safe for humans. She can't get hurt and cause you other damage.
There is an opportunity to change nozzles, depending on a case.Having only one tool at home, you will always have a crosshead and a flat nozzle on hand.
You can make at home without any special effort, and this is a significant savings.
It can be used not only in construction works, but also repairs related to the car.
Useful tips
There are times when you need to unscrew heavily rusted fasteners. What to do in this situation, because household tools do not cope with this task. All you need is an impact screwdriver. It is hard to believe that she is able to unscrew the old part.
Moisten the bolt with a small amount of brake fluid and see how easily the part will come off. Of course, it happens that it does not help either. Despair is not worth it. Moisten again with liquid that is used for the brake system of the car, and leave for a few hours. After that you can do the work with the help of a impact screwdriver.
The tool can be purchased at the store or made at home. In any case, in addition to the case, you will need additional attachments. This will save you from unnecessary tools.Imagine how nice it is when in the box instead of ten screwdrivers there is only one - a shock, and attachments that will help you in any construction situation are attached to it.
What are impact screwdrivers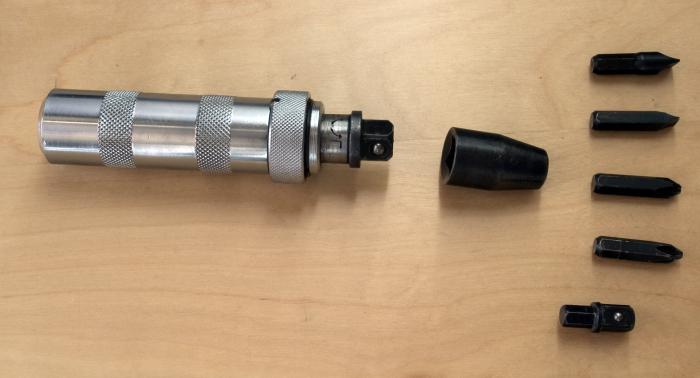 Main types:
Tool in the form of a simple beard. It is very easy to use. The biggest advantage of such models is that they are very cheap and absolutely everyone can afford it.
In the form of a conventional screwdriver. If you put two screwdrivers next to it - a hammer and a standard screwdriver, then you cannot find any visual differences. However, our tool is equipped with a special mechanism inside, thanks to which you can cope with difficult situations during construction and repair. However, if we talk about the cost of such models, they are quite expensive.
Impact screwdriver, hand-made. The best and most economical option. If you have a little time and desire, then with the help of simple parts you can make a very useful tool for the household with your own hands.
Summarize
As you can see, the impact driver has a very simple principle of operation.This is a useful and necessary tool in the arsenal of any mechanic who can easily help unscrew even the most outdated bolts. Making it your own hands, you will work with pleasure. Be sure that you will get it no worse than models from specialty stores.
Related news
How does a impact screwdriver image, picture, imagery