Delicious strawberry mousse
Strawberry mousse is a very simple, but also delicious dessert. In the hot summer, such a tasty delicacy will be just the way. Now consider several options for creating such a dessert.
With gelatin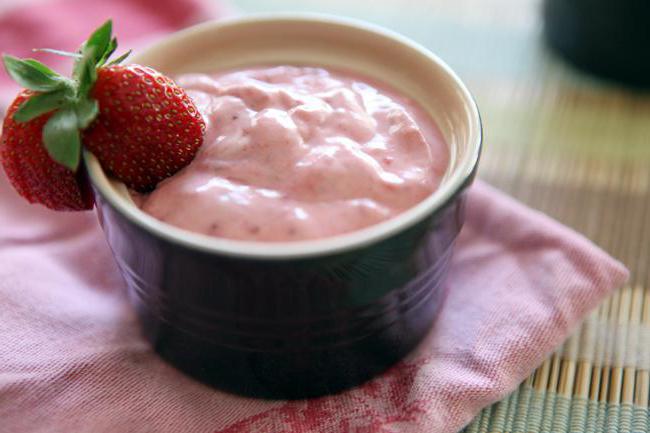 To make this strawberry mousse you will need:
• 70 grams of powdered sugar;
• two and a half teaspoons of gelatin;
• 300 grams of strawberries;
• 150 ml of milk;
• vanilla pods.
Cooking method
1. Put gelatin in cold water for twenty minutes. When it swells, put on the fire for a minute, heat to dissolve. But in any case do not boil.
2. Boil the milk, pour the gelatin into it. Next, mix well and cool.
3. Wash strawberries, dry, add vanilla and icing sugar.
4. Then chop the fruit in a blender.
5. When the milk has cooled, whip it. At the end add the berry.
6. After mass spread on the ice-cream bowl and send in the refrigerator for three hours.
That's all, strawberry mousse with gelatin is ready. This dessert is perfect for a children's holiday.

Without gelatin
To make a mousse without gelatin you will need:
• sugar (to taste, depends on the sweetness of strawberries);
• 200 grams of strawberries;
• 250 ml of milk;
• Two tablespoons of semolina.
For sauce required (approximately in equal proportions):
1. strawberry;
2. sugar.
For decoration you need:
• berries;
• mint leaves.
Cooking dessert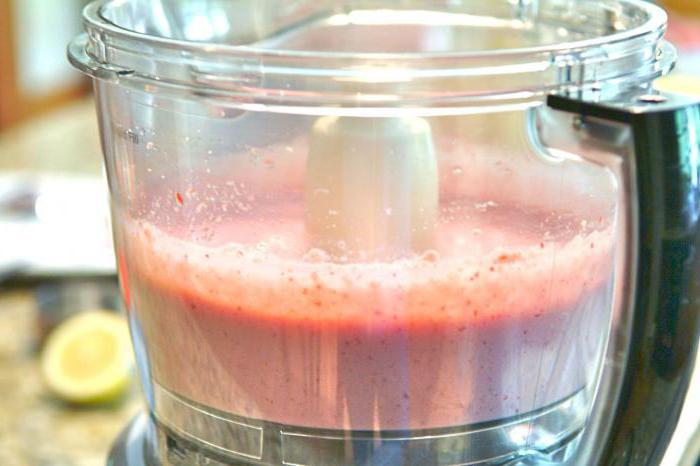 How to make mousse? Now we will tell in detail.
1. First, take a saucepan, pour the milk in there and bring to a boil.
2. Then pour boiling semolina (in a thin stream) into the boiling milk, while constantly stirring.
3. Now add sugar. Then cook over low heat with constant boiling for about eight minutes. Then cool.
4. Grind strawberries in a blender.
5. Pour the puree into the chilled semolina, beat with a mixer.
6. Spread the mass on the bowl, cool in the refrigerator (about a couple of hours).
7. Now make a strawberry sauce. To do this, chop the berry in a blender with sugar.
8. On a plate, pour a little strawberry sauce, top with mousse and garnish with berries and mint.
Delicious and light cream mousse
To make such a dessert you will need:
• a glass of sugar (if you do not like sweets, you can take a little less);
• 250 grams of strawberries;
• chicken protein.
Strawberry Mousse: Recipe
1. First wash the berries, cut them.
2. Part of the strawberry set aside.
3. Pour the remaining berries with sugar and chop with a blender.
4. Next, add protein and whisk with a mixer to make a fluffy foam.
5. After the remaining strawberries, add to the mousse.
6. Then send the dessert to the refrigerator for about twenty minutes. Then it will become more dense.
7. Before serving, pour the whipped cream.
Strawberry Mousse: Cream Recipe
This dessert is also prepared very simply. To create a mousse will need:
• three proteins;
• one and a half glasses of sugar;
• two glasses of strawberries;
• three glasses of cream.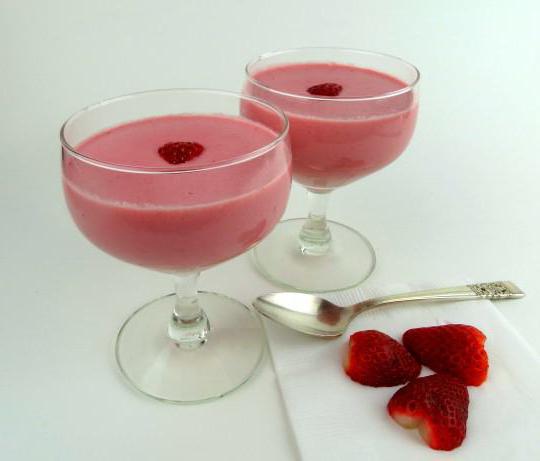 Cooking
1. Rinse strawberries, put in a blender, add sugar (0.75 cups), make mashed potatoes.
2. Whip the cream separately, it should make a thick mass.
3. Beat whites with sugar (0.75 cups) to make steady peaks. Note that sugar is added gradually.
4. Now mix the cream and strawberry puree, then add the proteins, mix. Everything is ready, spread the resulting mass into the bowls.
Lean
If the period of fasting has come, then this dessert will obviously appeal to those who adhere to it.Strawberry mousse is made simply, it turns out very light and tasty.
For cooking you will need:
• 500 grams of strawberries (fresh or frozen);
• 2 tbsp. l semolina;
• glass of water;
• two thirds cup of sugar.
The process of making dessert
1. How to make lean mousse? If you have frozen berries, thaw and drain the juice.
2. Then pour the semolina into the dipper, cover with water, then stir.
3. After put on the fire, stirring, bring to a boil.
4. Next, reduce the heat to a minimum, cook until ready for about five minutes.
5. After the mixture cool slightly.
6. Next, you need a blender, send it sugar and berries. As a result, you get a smooth sweet fruit puree.
7. Put the porridge in a bowl, beat a little with a mixer (a couple of minutes will be enough).
8. Next, add the berry puree there and beat together.
9. Then pour the strawberry mousse into molds and send to the refrigerator for four hours. Decorate the delicacy with chocolate sauce and mint.
Chocolate strawberry
To make such an original mousse, you will need:
400 grams of strawberries;
salt (pinch);
tablespoon of lemon juice;
four eggs;
one and a half tablespoons of gelatin;
30 ml of cream;
nuts (to taste);
150 grams of white chocolate;
40 grams of dark chocolate (for decoration).
Cooking process
Soak gelatin in 60 ml of water. Leave for 30 minutes, stir occasionally.
Then pour 2 tablespoons of boiling water there and mix everything.
Separate the whites from the yolks.
Melt chocolate (white) in a water bath, cool.
Whisk the yolks, add them to the melted chocolate, mix well.
Whip strawberries in a bowl of blender with cream. Next, add the gelatin. Then whisk again.
Now take the squirrels. Whip them with salt and lemon juice to the peaks.
Now add the yolk-chocolate mixture to the strawberry, then mix thoroughly. Then carefully add the protein mass. Then mix. The result is a very fragrant mousse. Pour it into a glass. Then decorate with nuts and chocolate.

Strawberry-curd mousse
To make such a dessert you will need:
• icing sugar (to taste);
• 150 grams of strawberries;
• 100 g of cottage cheese;
• One package curds.
Making dessert
1. First, mix until smooth (air mass should turn out) curd and curd.
2. In a blender, beat the icing sugar and strawberries.
3In a glass, put two-thirds of the curd mass, and then add the strawberry sauce. Garnish with mint.
Related news
Delicious strawberry mousse image, picture, imagery