Chicken in the oven with potatoes - a popular recipe
There are dishes that never bother. Chicken in the oven with potatoes - one of them. Cooking options for this delicacy, there are many, and even a small difference in the preparation entails a change in taste. You can take a chicken, divide it into portions, or use only some parts of the carcass.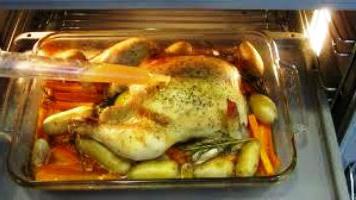 Often cooked chicken in the oven, stuffed with potatoes, a variety of vegetables and even fruits. An even greater variety gives a different composition of vegetables, which are used in this dish. Carrots and onions are wonderfully combined with potatoes - this is a traditional combination. You can also add eggplants, cauliflower or Brussels sprouts, zucchini and tomatoes. A more savory taste is obtained if you add apples (fresh sour varieties or dried), dried apricots and prunes, nuts and pineapple. Add variety and cheese. The flavor and taste qualities that the chicken in the oven with potatoes will also have depend on its variety.Even more space for experiments give seasoning. You can, of course, take the ready mix, but adding new types of spices each time, you get real pleasure from the process, and your loved ones - a variety of taste sensations.
Marinated chicken in the oven with potatoes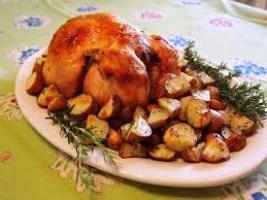 Cut the medium-sized chicken carcass along the sternum, "unfold". Cooking marinade: add salt (70 g) and sugar (140-150 g) to a liter of water, spices as desired and taste. When everything dissolves, put the cut chicken in the marinade, press it down with something heavy, cover with a lid, leave for 1.5 hours. During this time, we clean the potatoes (6-8 pieces) and carrots (1-2 pieces), cut them into large pieces and boil them in salted water until half cooked (if you bake raw potatoes, they turn out hard and dry and slightly cooked in the oven becomes crumbly and soft). Onions (1-2 pieces) clean and cut into large pieces. Garlic (2-3 cloves) chopped. Heat oil in a pan (sunflower or olive), put the garlic when the smell goes - onions. Slightly fry and pour 50 ml of white dry wine, quickly evaporate it over high heat.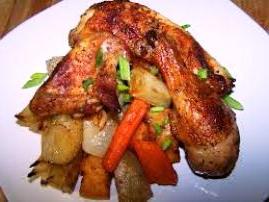 Again add 50 ml of wine, but not completely evaporated. We bake the baking dish (preferably with high sides) with butter, spread potatoes and carrots, sprinkle with spices (usually take coriander and ground pepper, but you can add turmeric, hops-suneli, basil, oregano, ground ginger, etc.). Top onion with garlic. We take the chicken out of the marinade (it should take 1.5 hours), wash it under running water, dry it, rub it with vegetable oil and a mixture of spices and salt. Spread the processed carcass on vegetables. We put in the oven with a temperature of 200 degrees for an hour and a half. Readiness is checked by piercing the bird in the thickest places. When the released juice becomes transparent, and a ruddy crust appears on the surface, the chicken in the oven with the potatoes is ready.
Variations on the topic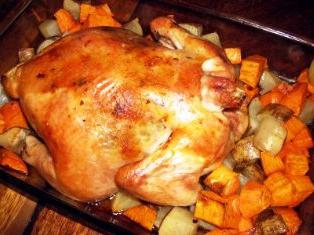 The dish for this recipe turns out delicious. The chicken is juicy and fragrant, the vegetables are soft and tender. But there is no limit to perfection. By slightly changing the recipe, you can get a completely different taste. Instead of marinating, you can take 2 lemons, cut them into thin slices, add salt, sprinkle with spices and, making neat cuts in the carcass, insert them into the chicken.Grate the whole carcass with a mixture of garlic, salt and ground pepper, cover with tarragon, rosemary and thyme. Everything else is cooking - according to the recipe (you can try to change something in vegetables - it will not be any worse). This recipe is called "chicken in the oven with lemon and vegetables." It is more spicy and piquant, but no less delicious.
Related news
Chicken in the oven with potatoes - a popular recipe image, picture, imagery