5th generation of aircraft: the Russian "T-50", the American F-35, the Chinese J-20. Comparison of fifth-generation combat aircraft: TTH, crew, weapons
Despite the fact that several decades have passed since the last world war, it continues between the states. World countries continue to create more and more new combat units, such as tanks, ships and, of course, airplanes. In the field of flight technology, progress is moving at a rapid pace, and this can be said at least on the basis that the fifth generation is already occurring among aircraft. Airplanes have already passed through four generations, and the fourth is by far the most common. However, naturally, time is ticking, therefore, gradually people turn to new technologies.From this article you will learn about what will be the 5th generation of aircraft, which is almost on the threshold. First, we will talk about what the fifth generation of aircraft in general is, how it will differ from the fourth one, and then you will learn about the three most promising new generation fighter aircraft, which are currently undergoing flight tests and are preparing to officially break into the airspace of this world.
What is this generation?
So, first you need to talk in more detail about what constitutes the 5th generation of aircraft. The fourth generation of aircraft appeared in the sixties of the last century, and already ten years later, conversations began about what the fifth generation fighters would be. Considering how difficult it is to develop new technologies in this field, it is not surprising that such conversations began almost immediately after the appearance of the fourth generation of fighters. The first fighter of the 5th generation appeared in 2001 - they became the American F-22 Raptor. Since then, full fifth generation fighter has not yet been released, but it is worth noting that work is underway in many countries, and four already have models that, as mentioned above, are undergoing flight tests.These countries are the United States of America, the Russian Federation, Japan and China, and China is preparing for a mass launch of two aircraft at once.
But how exactly does the 5th generation differ from the fourth? In fact, there are a huge number of differences, so it is worth listing only the key ones. First, the new generation of aircraft will be much less noticeable on the radar. This is achieved in a variety of ways, including through the passive transmission of information from onboard sensors. Secondly, they will differ in the broadest functionality. This means that new aircraft will be able to effectively fight with targets in all directions: in the air, on the ground and on the water. Thirdly, these aircraft will be available flight at supersonic speeds, but the afterburner will not be used. Fourth, they will be distinguished by increased maneuverability. There are a number of other advantages, among which are the ability to make an all-perspective shelling of selected targets when conducting close air combat, automation of onboard systems control, increased combat autonomy and much more.
On this introduction you need to finish, because ahead of you waiting for information about real models. Naturally, this is not about the pioneer F-22 Raptor, which was released fifteen years ago. You will learn about the most advanced models that have not yet been put on permanent production, but are only at the testing stage. Which fifth generation fighter is by far the most effective and promising? That is what you have to learn. And three leading models will be compared: the Russian T-50 fighter, the American F-35, and the Chinese J-20.
"T-50": tactical and technical characteristics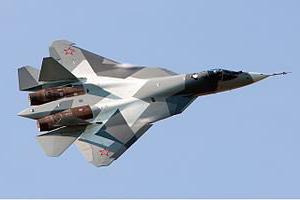 The first, of course, you need to consider the fifth generation fighter of domestic production, which was the "T-50". The length of this aircraft is almost twenty meters, and its wingspan is 14 meters. The base of the chassis is six meters, while the track is five meters. As for the mass, it is impressive: an empty plane weighs 18 and a half tons, and if you fill it up with one hundred percent, it will weigh thirty tons. Moreover, its maximum take-off weight reaches 37 tons. The load on the wing is 330 kilograms per square meter, if we consider a hundred percent tucked aircraft.
As for the engine, it is a two-circuit turbojet, but so far it is not final. The fact is that the aircraft of the second stage will be equipped with another engine, more appropriate for the fighter of the new generation. If we talk about the flight characteristics of this aircraft, then immediately it is worth noting its maximum speed, which is 2600 kilometers per hour, which is three times more than the speed of a standard passenger aircraft. As for the flight range, it is different, depending on the speed. If we are talking about subsonic speed, the plane can fly 4300 kilometers with a full refueling. If it flies at supersonic speed, then its range is 2000 kilometers. The result is that the maximum flight duration of this fighter is almost six hours. It is also worth noting that its practical ceiling is 20 kilometers, and the run-up length before take-off is 350 meters. This is a perfect example of what technical characteristics modern military aircraft should have. The performance characteristics of this model does not end there; it is separately necessary to consider the crew that will be in it, as well as the weapons.
"T-50": crew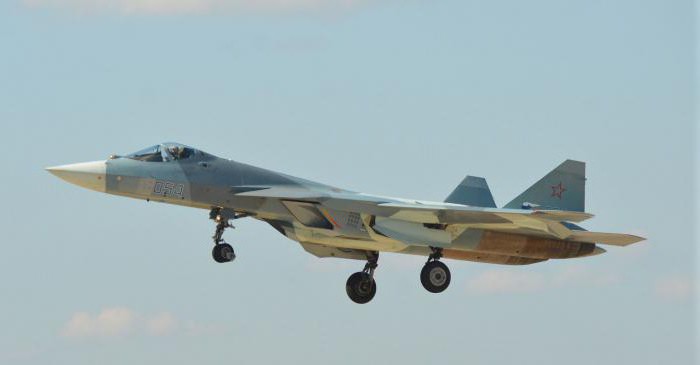 How many people do you need to pilot 5th generation airplanes? The crew of this model is incredibly small: it consists solely of one pilot. However, it is not surprising that the pilot will have to undergo serious training before being able to control such a fighter. Considering that in fifth-generation aircraft, automation is reaching a new level, many may think that the requirements for the pilot will decrease. But they are only increasing, because now he will need to be able to interact with all modern systems. But it is much more interesting to find out what kind of armament a 5th generation combat aircraft that the Russian Federation is going to have on its board.
"T-50": weapons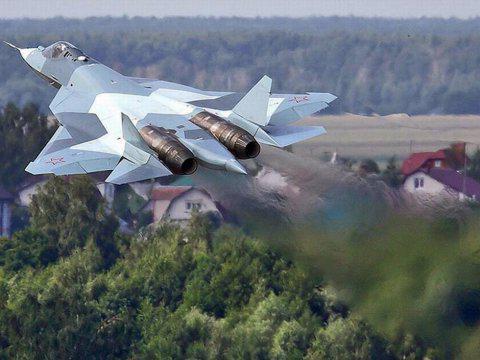 Comparison of 5th generation airplanes in terms of tactical and technical characteristics is one thing, but it's completely different to compare them in terms of armament. Considering the fact that these are combat aircraft, weapons play a very important role, therefore, it is worth paying special attention to it. First, this aircraft will be equipped with a 30-millimeter built-in gun, which will not be the main armament.Why? Because, secondly, the main focus is on various kinds of rockets. The maximum combat load of the aircraft is ten tons. However, this is the maximum load, but if we talk about the standard version, the ammunition will weigh about six tons. One and a half tons will be designed to conduct air combat (this includes RVV-SD and RVV-MD), and four and a half tons - to destroy ground and flood targets (KAB-500 and RVV-MD). The set will be present missiles, both short and medium and long range. Moreover, one will be much more advanced than those used now on fourth-generation aircraft. They have increased range, high sensitivity, they are protected from the effects of interference, and can also detect and capture the target right during the flight. This model will have two possible complete sets of suspension points for ammunition: either there will be eight internal and eight external points, or 10 internal and two external points. This is how Russian fifth-generation combat aircraft will look like. But the article is not only about Russian, but also about other aircraft, so it's time to move on to considering other models.
F-35: tactical and technical characteristics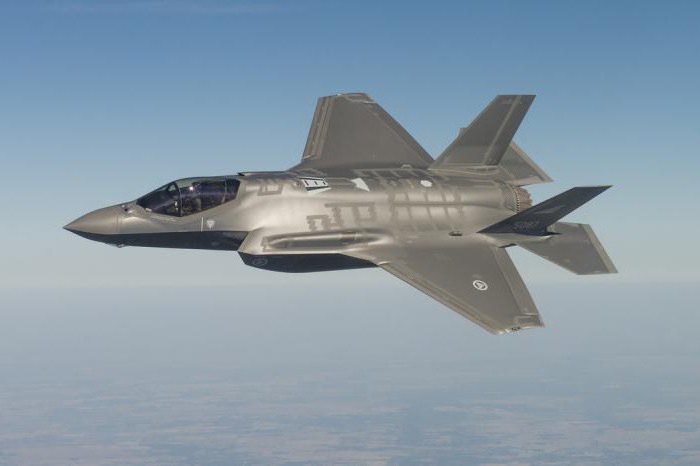 First of all, it is worth noting that the F-35 Lightning II is being developed in three models at once, each of which has its own peculiarity. Model A is created for the US Air Force and is the easiest option. Model B is designed for the US Marine Corps and has many parameters, but the key differences are the short take-off and vertical landing. Well, the model C, which is the most advanced among the three, is created for the US Navy and has increased maneuverability for successful take-off from aircraft carriers, which is carried out with the help of a catapult.
So, the length of this aircraft is about fifteen meters, and its wingspan is ten meters (except for model C, which has a larger wingspan, as much as 13 meters). As for the mass, then, depending on the model, it ranges from 13 to 15.5 tons, while if we are talking about the maximum take-off mass, it can be from 29 to 30 and a half tons. The mass of fuel that can be poured into the fuel tank is from 8 to 9 tons. The engine on the plane is American, but its principle is exactly the same as that of the Russian model - this is a turbojet dual engine with an afterburner.
The maximum flight speed of this fighter is about two thousand kilometers per hour, and cruising speed is 850 kilometers per hour. As for the flight range, it differs in different models due to differences in design. Least of all the range of the model B is only one and a half thousand kilometers, while the model C is able to fly two and a half thousand kilometers. The flight duration of this aircraft is two times less than that of the Russian model, only two and a half hours. And the practical ceiling is also slightly lower, it is only eighteen kilometers. However, this is not all that you can tell about the F-35 Lightning II - there is more information about the crew and weapons ahead of you.
F-35: crew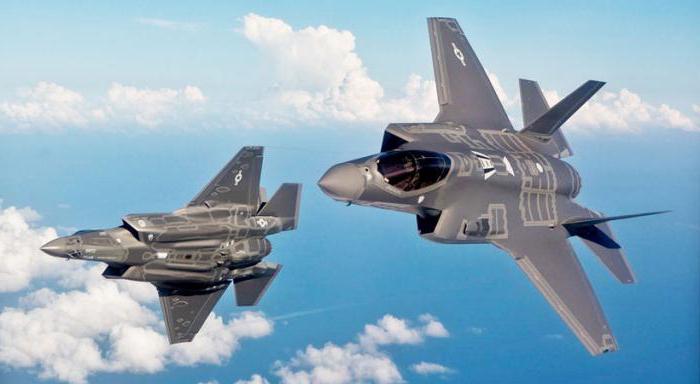 The Russian T-50 aircraft is operated by one person, and the same can be said about the American counterpart. As you may have already noticed, fifth-generation fighters are not designed to be managed by two or more people, and this is largely due to the fact that the automation system has been greatly improved, so there is simply no need for two crew members on board.Modern technology tends to ensure that fighters become unmanned, but so far the crew of fifth-generation aircraft is one person.
F-35: weapons
Airplanes of the fifth generation of the world have different weapons, but they differ mainly in the place where they were produced. For example, now you can already understand that on such fighters one gun and a large number of various combat missile armaments are standard. In the case of this model, an integrated four-barreled cannon is installed on board, complete with a stock of shells. In models B and C on board there are 220 shells for the gun in a special container, while in the third model the number of shells is reduced to 180.
As for the combat load, it is nine tons for each of the subspecies of this aircraft, and all of them have the same suspension points. Four points are internal, while six are external. What exactly is suspended there? The ammunition of this fighter consists of four types of air-to-air missiles and two types of air-to-surface missiles (i.e., air-to-ground and air-to-water).That is what American planes have 5 generation weapons. And within the framework of this article, it remains to tell about one more plane, this time of Chinese production.
J-20: tactical and technical characteristics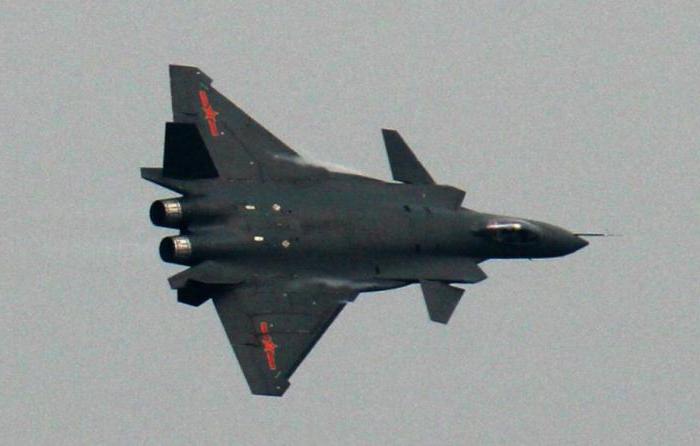 The last plane, which will be discussed in this article, is developed by the Chinese government and can become a serious competitor to the models described above. For a long period of time, it was the American and Russian armed forces that were considered the most impressive in the world, but recently China has reached a qualitatively new level in absolutely all areas, including the production of military equipment. So what about the tactical and technical characteristics of this model? The Chinese fighter has the longest length, which is more than twenty meters, but at the same time is inferior in wing span to a Russian competitor. The Chinese model, he is only thirteen and a half meters. The weight of this aircraft is about twenty tons, when it is empty, but if it is fully filled with fuel and weighed all the weapons, the maximum weight reaches 32 tons.As for the maximum mass allowed for take-off, it is 36 tons, which is not much less than that of a Russian competitor. The mass of fuel that is placed on board the aircraft is more than eleven tons. This is approximately the same figure as the "T-50", but at the same time a couple of hundred pounds above. Moreover, the Chinese fighter can carry two external fuel tanks, each of which adds four tons of fuel mass. As for the engine, there is still very foggy - there are two prototypes that may be essential for this model, but so far the most likely is the Xian WS-15 model, which is already in production, unlike the prototypes. Well, in matters of maximum speed, the Chinese plane bypassed the American, but, again, could not catch up with the Russian. This aircraft can reach speeds of up to 2,100 kilometers per hour.
J-20: crew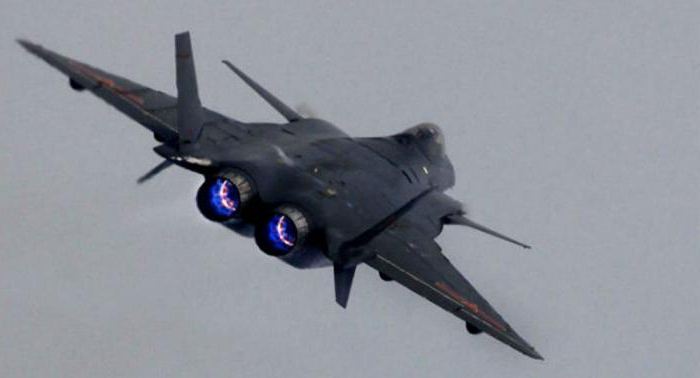 As for the crew, there are no surprises: the aircraft is designed for one pilot, who will be responsible for all the systems on board the aircraft. This is a standard that, apparently, will be maintained in all fifth-generation aircraft that will be produced in the future.
J-20: weapons
When it comes to this Chinese fighter, it is worth remembering that this is an overseas technique that entered the final stage of development only five years ago. That is why it is known a little less than the other two. More is known about the Russian plane, since all sources are at hand, while the American is simply being developed for more than fifteen years. His first test flight took place a year before the only valid fifth-generation F-22 aircraft was completed. Accordingly, very little is known about the armament of the Chinese fighter. So far, sources have reported that the aircraft will be able to use both short-range and long-range missiles, but nothing is known about the mass of ammunition, or suspension points, or specific models of missiles. Moreover, it is not yet clear whether the fighter will be equipped with any gun. Even if he is equipped with it, there is no reliable information about it yet.
To sum up the comparison, it can be noted that each of these aircraft has great potential. How will it unfold in actual use? This is a question to which the answer will become known quite soon, since all these models are in the phase of actual flight tests.Most likely, the first will be an American fighter, as they are working on it much longer than on Russian and Chinese aircraft.
Related news
5th generation aircraft: Russian T-50, American F-35, Chinese J-20. Comparison of fifth-generation combat aircraft: TTH, crew, weapons image, picture, imagery